Disclaimer: This is a rather lengthy and slightly OT post, but it was approved by Leon for this section as it is very significant information, and we'd like to get the most eyes possible.
For the past few weeks, Mike (net54baseball member:
71buc
) and I have been researching the release date and distribution methods of the D302 Jackie Robinson Bond Bread set of 13.
It has been assumed for more than 30+ years that this set was released in 1947, and that the cards were distributed through packages of bread. The sole exception would be the Portrait – Facsimile Signature version, which is believed to have been a promotional card given out in 1947.
In our research, we have focused our efforts on photo-matching the images on the card to dated/wire/original photos and their slugs.
As a result, we believe we have found definitive evidence that not only challenges the release date attributed to the set, but also the means in which it was distributed.
The significance of this find/information is rather large, as Jackie Robinson's deal with Bond Bread may have been his first endorsement deal, and the cards are often considered to be his rookie cards (pre-dating the Leaf and Bowman issues).
So what did we find in our research?
Well, Mike had approached me a few weeks ago asking me if I had concrete evidence that the set was released in 1947 because he thought he had proof that the set was not released in 1947. Now I have read the Trader Speaks articles, and just about everything I have been able to find on the set, and as such, I have always attributed the set to 1947. His comment piqued my curiosity, though, and I started tracking down the photos used for the set.
In my quest, I stumbled upon the same evidence that Mike had in his possession – this photo:
The photo was used for this card: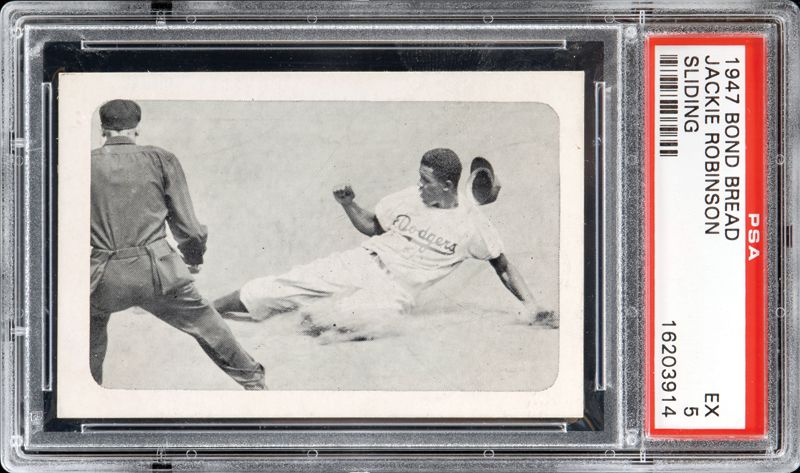 This photo was taken on July 2, 1949 – two years AFTER the supposed release date of the D302 Jackie Robinson Bond Bread set. The box score of the game can be found here:
http://www.baseball-reference.com/bo...94907020.shtml
Here is the slug on the back of the wire photo
Knowing this information, one would think that the set was not released in 1947, but rather late 1949 – early 1950. However, there have been stories during which original owners of the card attribute at least one card from the set to 1947. See this lot from REA last year:
http://www.robertedwardauctions.com/.../2012/497.html
With the knowledge that the Portrait – Facsimile card was distributed in 1947, and the Sliding card having been distributed no earlier than late 1949, we believe that the set was released over a few years, changing the actual date of the set to 1947-1949 or 1947-1950.
With that in mind, we set out to track down more photos. As of now, we have found the original photos for the following cards:
Portrait Glove in Air – Few days prior to opening day - April, 1947
Photo: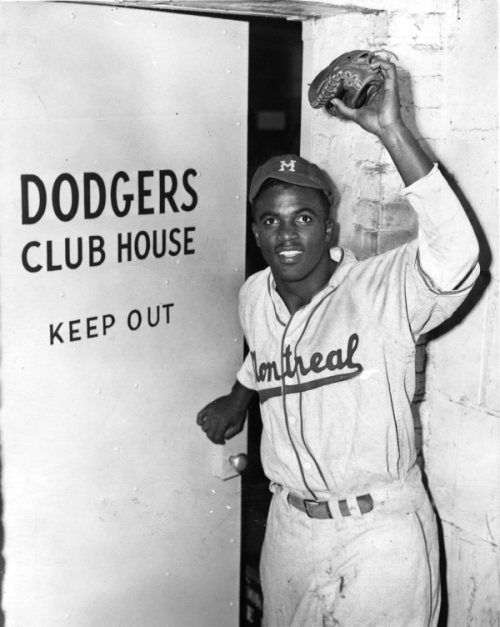 Card: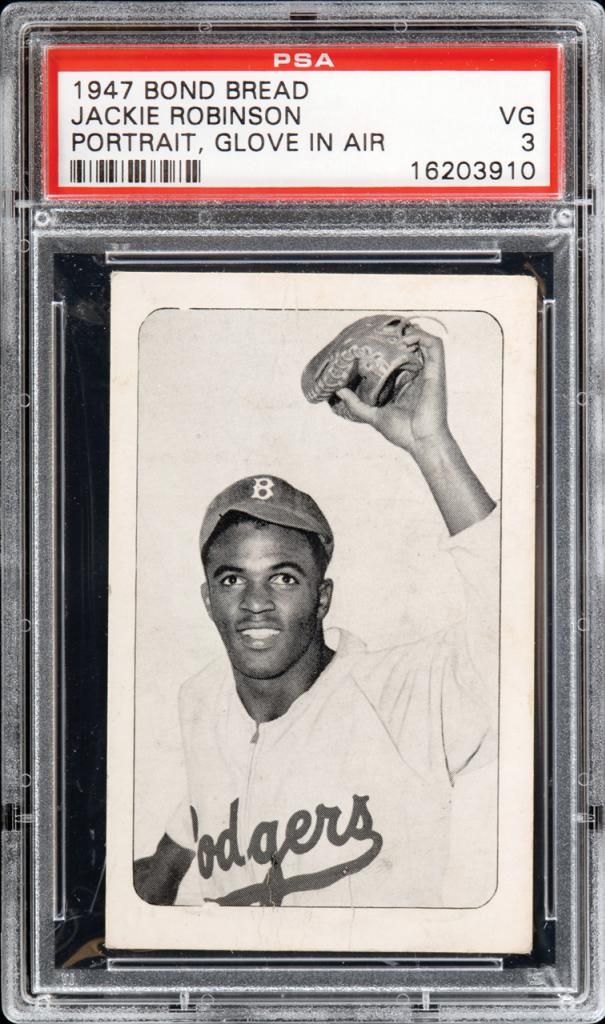 Batting – White Sleeves – 1946 – photo was taken when Jackie was with the Montreal Royals
Photo:
Card: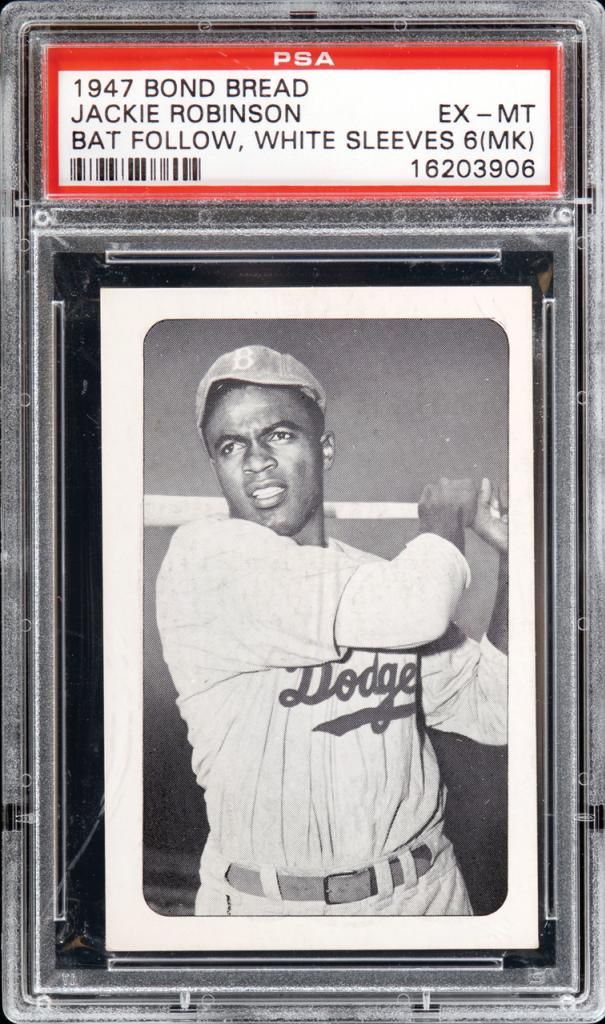 Fielding – Ball in Glove – Opening day - April, 1947
Photo: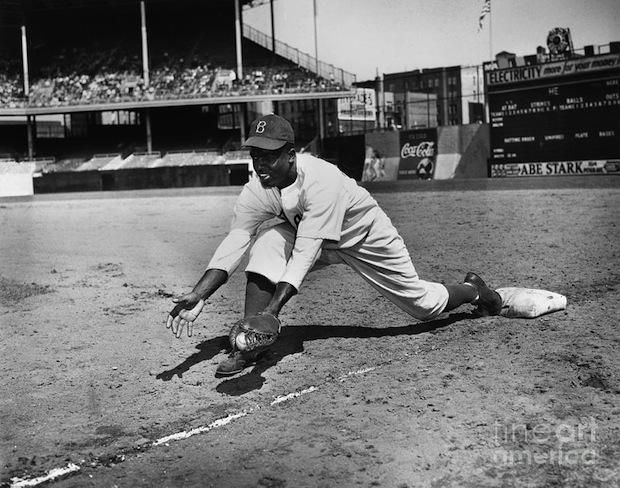 Card (slightly different angle than the photo - I believe the card photo was edited, as Jackie's face looks like it was copy-pasted)
Sliding – July 2, 1949
Knowing that the set was released over a period of a few years, we considered various theories as to when and how the cards were actually distributed. After some researching of the newspaper archives, we found that the official announcement of Jackie Robinson signing his deal with Bond Bread took place early October, 1947. That doesn't necessarily mean that he actually signed the deal then, but it was when it was officially made public.
A newspaper article with the announcement can be found here:
http://news.google.com/newspapers?id...robinson&hl=en
The date, though, would make sense, as Jackie would have just finished his first season with great success.
The next thing we thought of was the actual advertisements on the back. There are 3 different backs for the D302 cards.
I have posted the images of the 3 backs in a reply to this post for reference.
We think it is fair to say that the Sliding variation may have been the last card in the set issued. The back of that card has the advertisement "My favorite at 'home plate'", and features Jackie's head shot.
5 other cards have that same advertisement. They are:
- Leaping, Scoreboard in Back
- Running Down the Baseline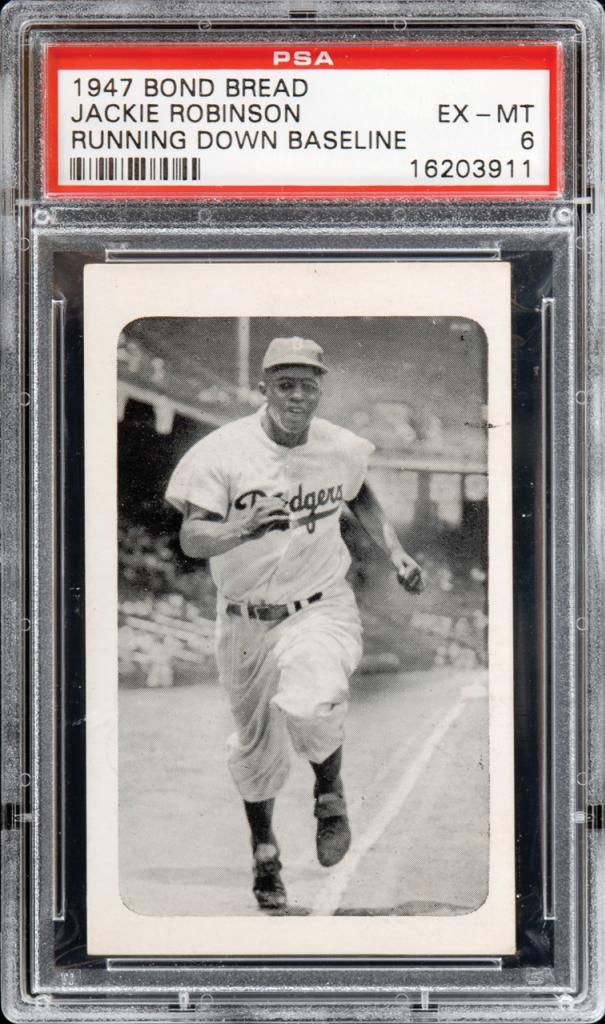 - Throwing
- Running to Catch the Ball
- Batting, No Sleeves
The Throwing and Running to Catch the Ball card both show him playing what looks to be second base. Jackie Robinson played second base from 1948-1952. He is definitely not playing first base in those cards, which means the photos were either taken while he was with the Royals, or at some point after the 1947 season. Almost all of these photos have a stadium background, which leads us to believe that the photos were taken after the 1947 season.
The Portrait-Facsimile card features Jackie Robinson's bio on the back. It is the only card with that back. We believe that it was the first card in the set issued, and it may have been used to gauge what the public's reaction would be to such cards – perhaps to determine where they would be most effective as a means to promote their bread.
The remaining 6 cards have the back "Homogenized Bread Makes a Hit with Me Everytime".
Those cards are:
- Leaping, No scoreboard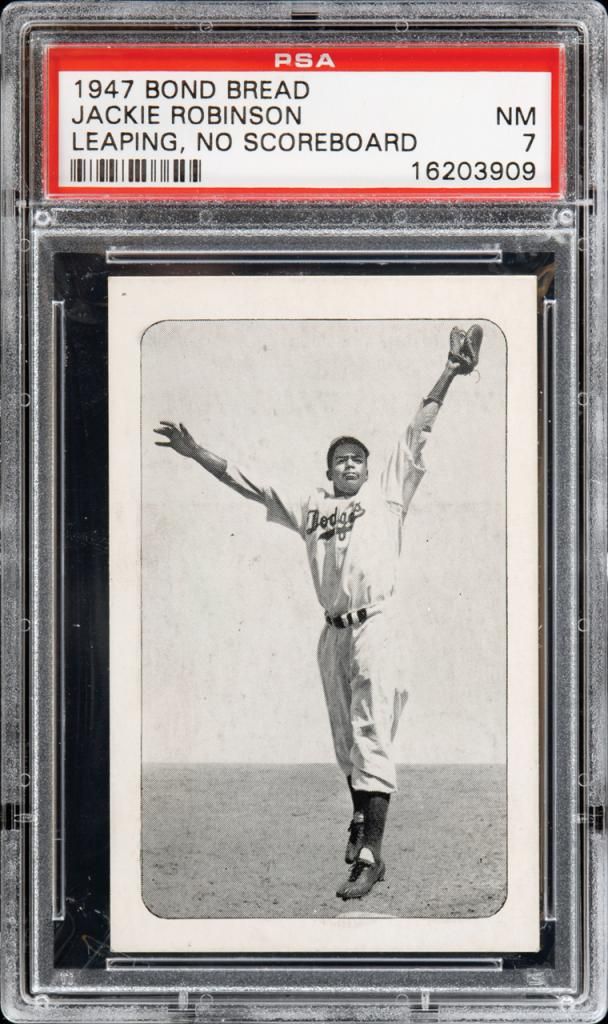 - Fielding, Ball in Glove (See above for visual)
- Batting White Sleeves (See above for visual)
- Portrait Glove in Air (See above for visual)
- Fielding No Ball in Glove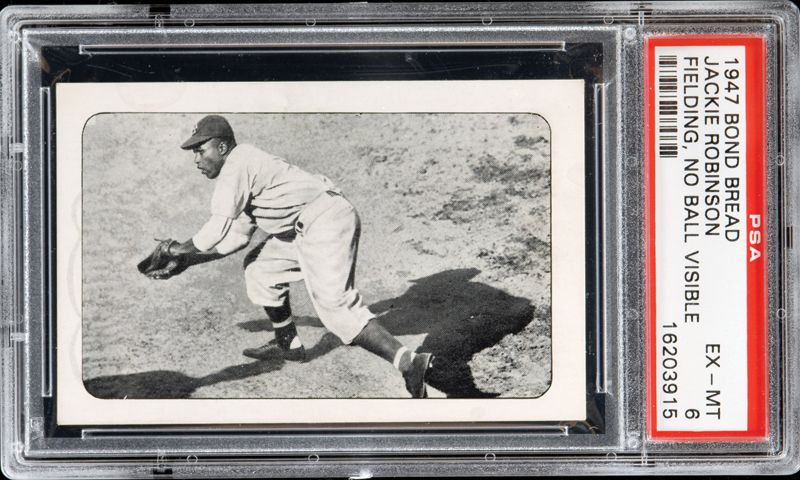 - Awaiting the Pitch
We have already identified the dates associated with 3 of the cards. In the Fielding, No Ball in Glove, Jackie is again shown playing first base. That means that the photo was taken in during the 1947 season. The Leaping, No Scoreboard does not have any kind of background to it – though it looks like he is wearing a first basemen's mitt. That again would attribute the photo to 1947. I have not been able to identify what stadium Jackie is in for the Awaiting the Pitch photo.
Knowing this information, we believe that the Portrait – Facsimile card was the first released in 1947.
We believe that the remaining 12 cards were released between 1947 and 1950, perhaps 3 or 6 at a time. That would make sense from a marketing perspective, as Bond Bread would want to maximize the impact of these cards to promote their product.
As a result, we speculate that cards in the 2nd group of 6 mentioned were released between 1947 and 1948, and the cards in the 1st group of 6 mentioned were released between 1949 and 1950.
At this point, though, we have run into a stumbling block, and would like your help to identify any other photos that may have been used for the set. We believe that that would help us to pinpoint the exact time period in which the set was released.
Now that brings us to how the cards were distributed, and where they were distributed.
It is believed that the Portrait – Facsimile card was given out in stores as a promotional item in 1947, and that is why there are so many more copies of that card in comparison to the others.
We do not have enough information to determine how the other cards were distributed, though I have tracked down one card with the name of a small grocery store written on it. I am not sure if the writing was done by the store owner, or by the recipient of the card as a means to identify where he/she got it from. If the writing was done by a store owner, it is possible that the card was also given away as a promotional item, and it was not actually packaged in the bread itself.
Perhaps the card was given away with the purchase of bread, though not actually inserted in the packaging? It is hard to tell without any other cards featuring similar writing or stamping.
Regarding where it was distributed – it has always been believed that these cards were used to promote Bond Bread in African-American neighborhoods in certain parts of the country. I have found newspaper articles that make reference to Bond Bread having to prematurely stop the promotion due to the backlash of the American people. However, the cards were definitely released over a period of a few years, so I do not believe that to be the case.
We think that that Portrait – Facsimile card may have hit the most markets to gauge an interest as to how effective the cards would be in each market.
It is possible that that card was met with resistance in some areas of the country, and perhaps the company decided to stop using the cards as promotion in predominantly white neighborhoods. However, that is all speculation.
Mike made a good point when he said to me that Robinson was very much aware of the economic power that African Americans could wield, and that he was never shy about that. White children would have been all over these cards, and Robinson and the Bond Bread executives had to know that. Did they limit the release on these cards so as to not alienate their establish clientele, and instead, use them strictly to expand their customer base to African-American neighborhoods? That kind of agreement seems out of character when one thinks of Robinson.
In scouring the archives, the majority of Bond Bread advertisements using Jackie Robinson that I could find were, in fact, from newspapers that targeted the African-American community.
I think it is also important to show these images of Bond Bread advertisements, which indicate that Jackie had a multi-year deal with Bond Bread. In the image below, Jackie is seen with Jackie Jr., who was born at the end of 1946. There is no way that the photo used was from 1947, but rather from 1948 or 1949.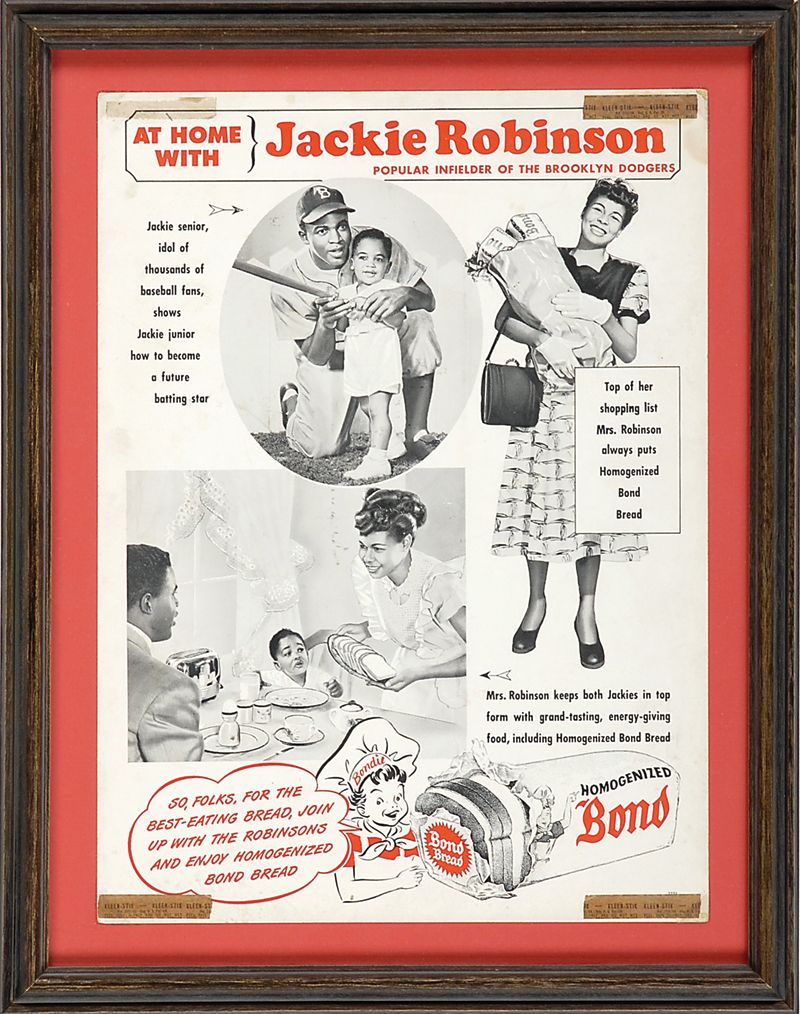 At this point, we are hoping that this find encourages discussion about this set, in hopes that we can pinpoint how these cards were released, and exactly when they were released. We invite those of you with large wire / type 1 / original photo collections to come forward and help us identify the images of the remaining cards.
If anybody has direct contact with Rachel Robinson, and would be kind enough to put one of us in touch with her, we would greatly appreciate that, as perhaps she could help shine some more light on this set.
-
Shaun and Mike (71buc)