Jeff,
I believe the "
Worch
" cards were also issued by either the local Twin Cities newspapers or, on a more limited basis, by the teams (at least the Minneapolis Millers and St. Paul Saints). Many of the minor league cards carry credits to the newspapers. The lack of advertising makes pedigree difficult.
At least some of the Millers cards were issued in 1935, and examples of these went for strong prices several months back ($200+ for ex commons). I wanted to play, and figured the minor league cards would go cheaper than their big league counterparts--so the guides tell us--but there are those among us who know what they're looking at when it comes to these and are willing to bid accordingly. I won one or two, and decided to put that project on the back burner given what else could be had for that money. The '33-34 minor leaguers are more common than the '35s, but you wouldn't know that from the way Ebay sellers have listed them.
You are right about the variations, most of which are subtle and don't command premiums. I doubt many know which of the variations are more difficult, except those advanced collectors of the set who have hunted them over the years. Obviously, the variations suggest multiple printings, but it is unclear to me whether the different printings were over time or were contemporaneous from different printers.
Here are some of mine--the first two have variations and the third is a '35 Miller, at least claimed to be a
Worch
, although again, I wouldn't be surprised if it were instead issued locally by the Mpls Journal or at Nicollet Park:
Dickey (variation is in nameplate)
[IMG]
[/IMG]
Hartnett (variation is in projection)
[IMG]
[/IMG]
Holland (compare '33-34
Worch
on Ebay)
[IMG]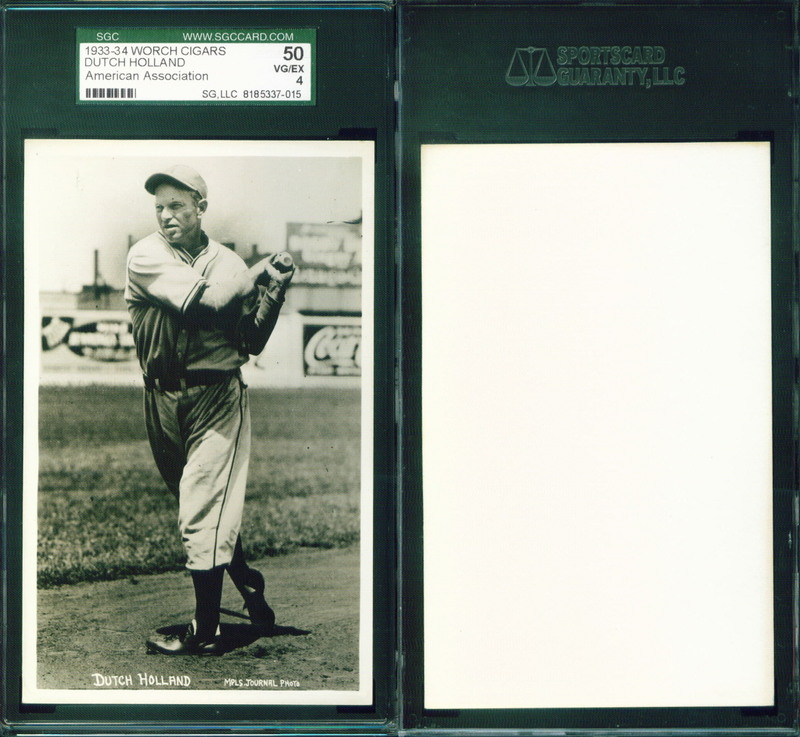 [/IMG]