I wonder how high it will go. Current Goldin Auction. "Still In the same condition as when it was removed." I think a little Clorox would help.

Description
Joe Frazier and Muhammad Ali epitomized the greatness of the sport of boxing in the 1970s. Fierce, determined warriors pitted against each other time and time again, fulfilling a rivalry inside the ring, and over the airwaves. These two battle-scarred participants fought three times in the ring, but also fought on LIVE TV during a media event prior to one of the matches.
Their first matchup was on March 8, 1971 as is known as The Fight of The Century, as it was first time that two undefeated boxers fought each other for the heavyweight title. Frazier won this fight to retain his World Heavyweight Championship belt. Interestingly, this fight pitted the last two heavyweight Champions, as Ali was champion before being stripped of his title after refusing to enter the Armed Forces during Vietnam. During each of the Frazier-Ali fights, David Wolf was in Frazier's corner eventually becoming a close personal friend of "Smokin' Joe".
After the fight, Wolf asked for, and received, the jock strap worn by Frazier during the Fight of The Century. We imagine this ardent boxing collector wanted the one item closest to the champ! The jock was stored "in a carton" in Wolf's apartment, and after he passed the carton was found with various audio tapes and this piece Frazier fight worn apparel. Still in the same condition as when it was removed. Certainly a one-of-a-kind World Heavyweight Fight piece of memorabilia and comes with a full LOA from A Thomas Hauser, which explains the background of this extremely rare item.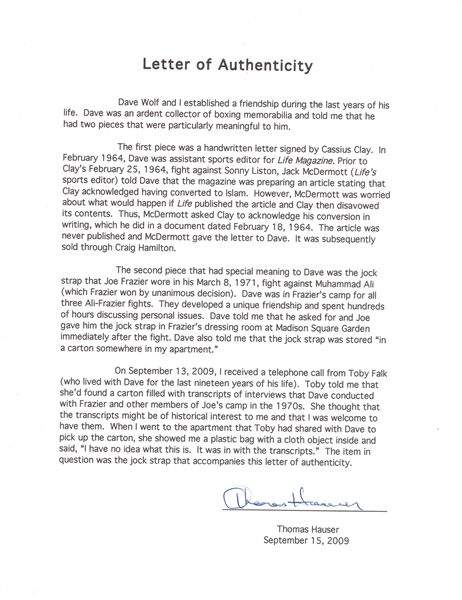 Current Bid:$5,000
Minimum Bid:$5,000
Estimate:$10000
Number of Bids:1
13 days + 16h : 14m : 11s Until Bid By Time