I happened upon this online, and thought people might enjoy reading it -- an article about baseball card collecting from the October 12, 1977 Chicago Tribune. I'm pretty sure I must have read this at the time, since our family got the Tribune and I was heavily into card collecting at the time, but I don't have any specific memory of it. It quotes Pat Quinn, whose son is a member of this board, and whose store I visited numerous times in the late 70s. In case people have trouble reading it, I've pasted in the text of the article below.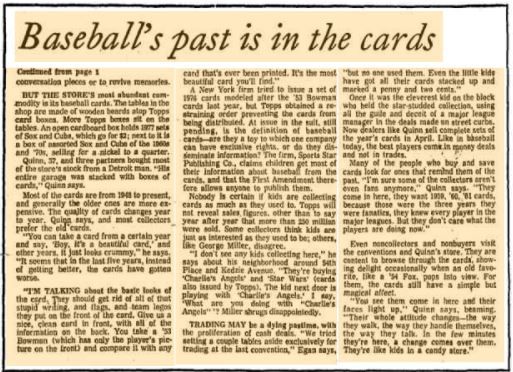 Baseball fans put their cards on the table
By Steve Bogira
SITTING IN HIS armchair in the late afternoon, George Miller looks as though he just finished his warm milk and cookies. His hand is waving over the object of his affections - a black notebook on his lap with the baseball cards fit in plastic jackets.
"This here is a 1948 Bowman," he says. "This card here I paid seven and-a-half dollars for. Here's Sherman Lollar; that card is more valuable today than it was yesterday." (Lollar had died the day before.)
Miller's eyes drop to a 1954 Nelson Fox: The second baseman is pictured bent low to the ground, fielding a grounder. His uniform shirt hangs loosely, its furrows hiding all but the letters CA of CHICAGO, and his pants are baggy. Under a Sox cap, his boyish face carries a trace of a smile, and his left cheek is swollen with his trademark tobacco chaw. At the bottom of the card is his autograph.
MILLER SLIDES to the edge of his chair and sends his already-booming voice crashing around the living room. "Look at that card, will you? Look at Nellie Fox! You ask why we collect baseball cards? Lookit, if he doesn't look like an 8th grader! Now, a lot of people would get a kick out of that."
Not just children, either. The 60-year-old Miller and a lot of other adults find simple joy in the cardboard pictures of players, with the statistics and little anecdotes on the back ("... Nellie got into baseball when his mother loaded him in a truck and drove him to a Philadelphia Athletics training camp, where he made a good impression.") Even adults who don't collect them seem compelled to pick up a card when they see one, pause over it, and grin.
Football, basketball, and hockey cards have enjoyed surges of popularity over the years, but baseball cards have been the consistent favorite. Collectors say it is because of the sport s colorful, folklore-filled tradition, and because of its long seasons, which allow fans to get to know and idolize its players.
But not all collectors are fans. Now, while baseball fans are paying strict attention to the World Series, many collectors have their minds elsewhere. The season for collecting is never-ending, and so they are busy trying to expand their collections, and will be during baseball's off-season. For many collectors, baseball cards have surpassed the importance of baseball, which, after all, is only a game.
And it can't compare with the fun of trying to complete a set of cards for a certain year or team. Miller collects White Sox and Cubs cards, and has almost all that have been issued since 1948, plus many older ones. Sox players from Luke Appling to Jungle Jim Rivera to Chet Lemon, and Cubs players from Phil Cavarretta to Dick Ellsworth to Jerry Morales are in his notebooks and file cabinets.
UNLIKE MILLER, who didn't start collecting until he retired three years ago, most hobbyists were baseball card collectors in their youth. They bought pack after pack in the neighborhood candy store, peeled off the wrappers, and threw away the gum. At home. they sorted the cards into teams, bound them together with rubber bands, and packed them in old shoe or cigar boxes.
Many gave up card collecting in adolescence, but sometime in adulthood they caught a glimpse of an advertisement ("Got any old baseball cards?") which rekindled their interest.
Until the last several years, baseball card collectors were a disorganized bunch. In 1969, a sports collectors convention in Detroit attracted many solitary collectors from the Midwest. Collectors met others from their area and formed associations.
Chicago hobbyists started meeting regularly to buy, sell, and trade cards, and in 1973, the first local convention was held. Now the Chicagoland Sports Collectors Association, with more than 400 members, is the largest such organization in the country. It convenes six times a year in the Hillside Holiday Inn. (The next meeting is Nov. 12.)
THE CONVENTIONS are public markets for baseball cards and other sports memorabilia. Scorecards and programs arc collected, as are autographed baseballs, pins and buttons, pennants, and old sports magazines.
The baseball card collections are diverse. The oldest cards were used as a stiffener in cigaret packages around the turn of the century. Some cards were sold with caramel slabs, and then came the bubble gum cards, issued by companies such as Goudey, Fleer, Leaf, Bowman, and for the last 20 years, Topps Chewing Gum, Inc. There also are collections of cards that came with cupcakes, ice cream, hot dogs, and dog food.
A lot of money changes hands at the conventions. As the collecting hobby matured, it ceased to be as simple and pure as it was for kids. "People realized that this was an adult hobby, and adults can write checks," Miller says.
And there are reprints and fakes to watch for. Collectors worry, too, about investors - businessmen who buy cards like stocks because they know collectors are willing to pay big prices for them. Collectors complain the investors have only a commercial interest in the cards and otherwise wouldn't know Rocky Colovito from Rock Hudson.
"IT S JUST a method to make a profit," says Rich Egan, a Mundelein chemist with a collection of 20,000 cards. "They buy cards and hang onto them, artificially inflate the prices, and then dump them."
There's no doubt that the conventions and the growing monetary value of cards also served to make baseball card collecting a more legitimate hobby for adults. Collectors who a few years ago were razzed for their hobby now are taken more seriously by their friends, bringing clandestine collectors out of the closet with their old cards.
"Something about money turned it from a nothing hobby to one that has meaning," says Pat Quinn, who last year opened the Sports Collectors Store, 4220 S. Archer Av. "Before, it was considered a hobby for kids, but now it's, 'Gee, if I sell my old baseball cards, I can actually get money for them."'
In Quinn's store, the sports motif is complete. Wallpaper with a repeating pattern of baseball, football, basketball, and hockey scenes adorns a room filled with team posters, yearbooks, guides, a few old bats, caps, helmets, drinking glasses with caricatures of athletes or team emblems, hardcover sports books, magazines on sports collecting, and the Jack Brickhouse record "Great Moments in Cubs Baseball." They are items bought for conversation pieces or to revive memories.
BUT THE STORE'S most abundant commodity is its baseball cards. The tables in the shop are made of wooden boards atop Topps card boxes. More Topps boxes sit on the tables. An open cardboard box holds 1977 sets of Sox and Cubs, which go for $2; next to it is a box of assorted Sox and Cubs of the 1960s and '70s, selling for a nickel to a quarter.
Quinn, 37, and three partners bought most of the store's stock from a Detroit man. "His entire garage was stacked with boxes of cards," Quinn says.
Most of the cards are from 1948 to present, and generally the older ones are more expensive. The quality of cards changes year to year, Quinn says, and most collectors prefer the oid cards. -
"You can take a card from a certain year and say, 'Boy, It's a beautiful card,' and other years. it just looks crummy," he says. "It seems that in the last five years, instead of getting better, the cards have gotten worse.
"I'M TALKING about the basic looks of the card. They should get rid of all of that stupid writing, and flags, and team logos they put on the front of the card. Give us a nice, clean card in front, with all of the information on the back. You take a '53 Bowman (which has only the player's picture on the front) and compare it with any card that's ever been printed. It's the most beautiful card you ll find."
A New York firm tried to issue a set of 1976 cards modeled after the '53 Bowman cards last year, but Topps obtained a restraining order preventing the cards from being distributed. At issue in the suit, still pending, is the definition of baseball cards - are they a toy to which one company can have exclusive rights, or do they disseminate information? The firm, Sports Star Publishing Co., claims children get most of their information about baseball from the cards, and that the First Amendment therefore allows anyone to publish them.
Nobody Is certain if kids are collecting cards as much as they used to. Topps will not reveal sales figures, other than to say year after year that more than 250 million were sold. Some collectors think kids are just as interested as they used to be; others, like George Miller, disagree.
"I don't see any kids collecting here," he says about his neighborhood around 54th Place and Kedzie Avenue. "They're buying 'Charlie's Angels' and 'Star Wars' (cards also issued by Topps). The kid next door is playing with 'Charlie's Angels.' I say, 'What are you doing with "Charlie's Angels" '? Miller shrugs disappointedly.
TRADING MAY be a dying pastime, with the proliferation of cash deals, "We tried setting a couple tables aside exclusively for trading at the last convention," Egan says, "but no one used them. Even the little kids have got all their cards stacked up and marked a penny and two cents."
Once it was the cleverest kid on the block who held the star-studded collection, using all the guile and deceit of a major league manager in the deals made on street curbs. Now dealers like Quinn sell complete sets of the year's cards In April. Like in baseball today, the best players come in money deals and not in trades.
Many of the people who buy and save cards look for ones that remind them of the past. "I'm sure some of the collectors aren't even fans anymore," Quinn says. "They come in here, they want 1959, '60, '61 cards, because those were the three years they were fanatics, they knew every player in the major leagues. But they don't care what the players are doing now."
Even noncollectors and nonbuyers visit the conventions and Quinn's store. They are content to browse through the cards', showing delight occasionally when an old favorite, like a '54 Fox, pops into view. For them, the cards still have a simple but magical affect.
"You see them come in here and their faces light up," Quinn says, beaming. "Their whole attitude changes - the way they walk, the way they handle themselves, the way they talk, In the few minutes they re here, a change cornea over them. They're like kids in a candy store."